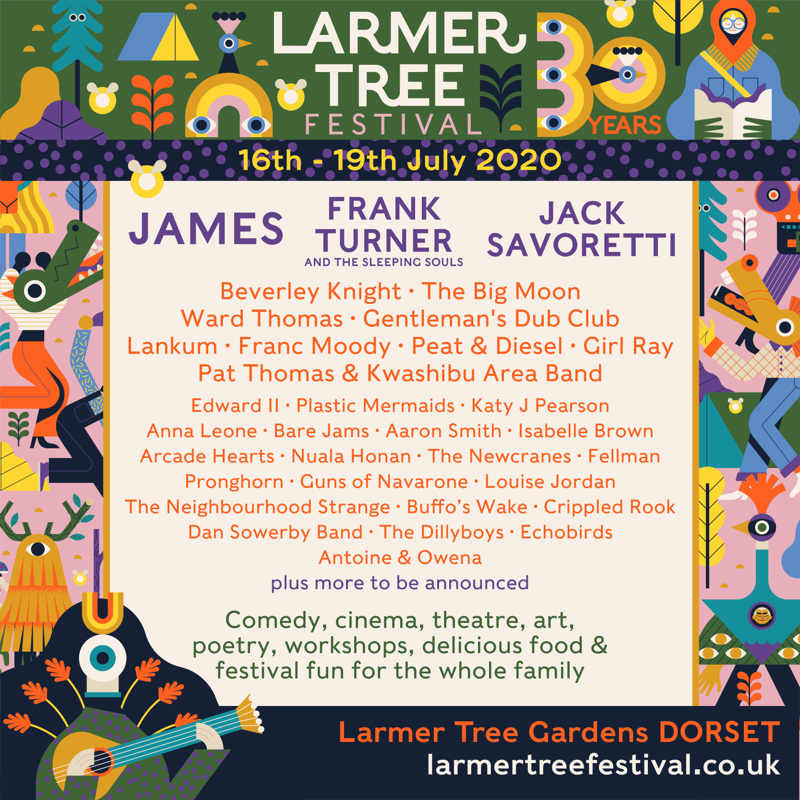 Larmer Tree Festival
Peat & Diesel
Buy Tickets
For the last 30 years, Larmer Tree Festival has created the ultimate summer party of music, comedy, theatre and much more, all set in the most beautiful festival site in the land. We've remained small by choice and offer a true community vibe for all ages, so whether you want to party through the night or enjoy the ultimate chilled family weekend, we've got you covered. For three days and four joyful nights in July the Victorian pleasure gardens on the Cranborne Chase transform into a sensory wonderland, ensuring adventure at every turn. Get ready to enjoy top-notch local, national and international artists in music, outdoor theatre, live performances, arts and comedy, as well as blissful retreats and legendary international cuisine to fill your belly and nourish the soul.
We always aim to bring renewed energy to the Festival with new experiences to check out every year, whilst also maintaining the original essence of Larmer Tree that our audiences know and love. Most importantly, we will always continue to find excuses to have fun!
Our audience has and will always be the most important part of the Larmer Tree philosophy and we're devoted to creating a stress-free experience for you from start to finish. We aim to keep you super well-informed during the booking process, and when you're on site we'll all be working like crazy behind-the-scenes to make sure you have the best weekend possible.
We're proud to have been awarded the UK Festival Awards for 'Best Family Festival' and 'Best Toilets' by festival-goers for the coolest, cleanest loos. We're also thrilled to have been named the 'Small Festival of the Year 2015' by NOEA (National Outdoor Events Association).
More details about our 2020 line-up will be released soon but for now, mark the weekend of 16th – 19th July 2020 in your calendars and make sure you follow our socials for all the latest Larmer news.